Our Response to COVID-19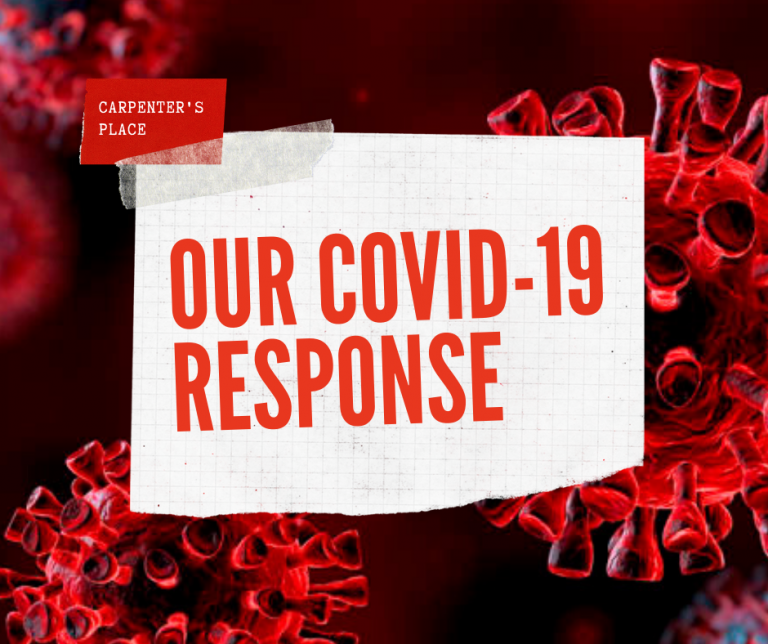 During this global health crisis, many things have changed at Carpenter's Place:
There are no volunteers on site and some staff is working from home;
We are not accepting in-kind donations;
Tables and chairs are set further apart to achieve social distancing among guest;
Case managers are not making home visits to our guests in housing programs;
Sanitizing has been accelerated to the max; and
We adjust routines as new local, state and federal guidelines are updated.
However, the things that have NOT changed are the light in this darkness:
We are still providing a safe day shelter for those who don't have a home;
Breakfast and lunch are served daily;
Showers, laundry, mail  and phone services continue;
Personal care items and other essential needs such as clothing are provided; and
Case managers are keeping in touch with our guests in housing by phone, and providing any needed items in a "drop and go" manner.
The guests' expressions of gratitude are overwhelming!
"Thank you so much for being open for us!"   "I'm so grateful for this food, bless you!"
Throughout the day, they are sharing their sincere appreciation.  We are humbled.
We also know the thanks they express to us truly belong to our supporters for providing the support needed for us to make these critical services available at this time, and always!
Needs
For the safety of all, we are not accepting in-kind donations at our Railroad Avenue location. However, essential needs continue. If you are willing to order and ship any of the following from Amazon or your favorite store, we will be very grateful:
Men's jeans 32, 34, 36 (32 length)
Boxer briefs M, L, XL
Thank you for your continued prayers and support during this global health crisis.
‹ Back to Blog