Support Our Family Services Program on #GivingTuesday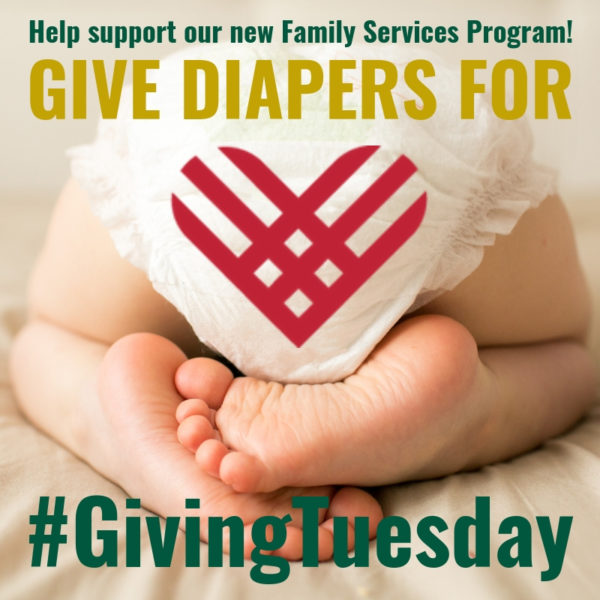 #GivingTuesday is an international day of giving celebrated on the Tuesday following Thanksgiving.
#GivingTuesday kicks off the charitable season, when many focus on the holidays and end-of-year giving. This year it falls on Tuesday, November 27.
We are proud to be a part of this global celebration of giving and hope you'll consider supporting Carpenter's Place.
This year we are focusing our #GivingTuesday goal on a specific and ongoing need for our new family services program – diapers!
According to the National Diaper Bank Network, infants require up to 12 diapers a day, toddlers about 8. This quickly adds up to hundreds of diapers a year, for a single baby. With this in mind, we've set a goal to collect 5,000 diapers.
Our most in-demand diaper sizes are 2, 3, 4, and 5.
Help us reach our goal of collecting 5,000 diapers!
Drop off a donation of diapers in-person at Carpenter's Place. Monday-Friday: 8:00am-4:30pm
Order online and ship directly to Carpenter's Place. (Quick links: Amazon.com, Target.com, SamsClub.com)
Contribute to our diaper fund with a monetary donation.
---
More about our Family Services Program…
In May 2018, in response to an identified need in our community, services for families in crisis were launched. Through the use of our case management program, it is the goal to have families address their current crisis, overcome the circumstances that brought them into the at-risk situation, plan for the future, and become stabilized so their children experience and learn there is a better way to live.
Below are results from our first six months of service to families.
From May 1, 2018 through October 31, 2018
16 families were active participants in our family case management program (20 adults and 43 children; 2 babies expected in November 2018.)
310 Sessions of Case Management were conducted with family members
10 families obtained housing (14 Adults, 31 children; 2 babies expected in Nov.)

8 Heads of household secured

employment.
Click here to learn more about our Family Services Program.
SaveSave
SaveSave
SaveSave
SaveSave
SaveSave
‹ Back to Blog