2021 Celebrate Success Award Recipients

To acknowledge our gratitude for their time, talent, and service we presented the following awards at our annual Celebrate Success event. This year's theme was Success Through Stability, and each of these award recipients embody the qualities of stability. They are dedicated, reliable, and steadfast in their commitment to help CP and those we serve. Continue reading to learn more about these extraordinary members of our community.
Tim Martin embodies kindness, caring, compassion, and commitment. He has been an extraordinary partner, friend, tutor, and mentor to a guest in our Permanent Supportive Housing Program for over five years. He has become like family to this person, and is always there to support, listen, and help in any way he can. For these acts we present him with the Angel Award.
---
We recognize Dr. Kelly John for her dedication to the homeless population, and the work she does every year with the annual Holy Thursday Foot Care Event. It has become a treasured tradition going on four years. It is a blessing to see her and her staff interact with our guests to provide foot care and new shoes, along with respect and dignity. It is our honor to recognize her with the Guardian Award.
---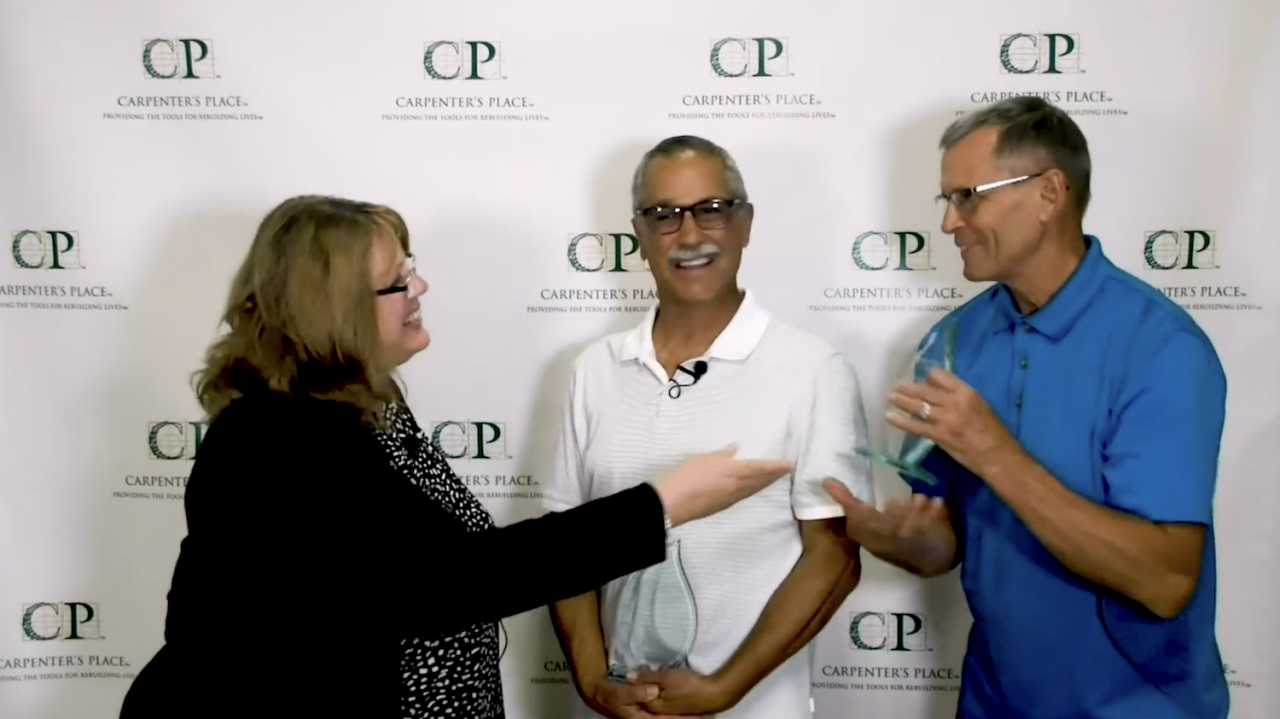 Both Tom and Kurt have been faithful volunteers with CP since 2017. They are this year's co-recipeints of the Helping Hands Award.
Tom Huber helps with picking up furniture on a regular basis and in other various ways when we've needed him. We recognize him for his generous donation of time and physical strength to secure and provide furnishings to help create welcoming homes for those we serve.
Kurt Untersee is part of our Cycles for Change program. He helps fix and repair bicycles for adults in our case management program. He also helps Tom with furniture pick-ups and does other handyman work when called upon. We recognize Kurt for his generous donation of time and skills to help Carpenter's Place.
---
When we needed help with extending services to families in need through securing a four-unit apartment building Westminster Presbyterian Church stepped up big time. It is for this reason we honor them with the Family Services Partnership Award. Kathy Owens accepted this award on their behalf in recognition of their generous partnership in creating a place for families in crisis to call home.
---
The Sylvester Family has been volunteering with CP for a decade! And during the past 10 years they have, without fail, hosted an incredible and much-anticipated annual Christmas Eve BINGO event! They bring loads of gifts that provide so much joy and happiness for our guests. We are deeply grateful for their ongoing love, kindness, and generosity. And so are our guests! It is our honor to present their family with the Team of Excellence Award!
Since our event was virtual again this year, you have the opportunity to watch the entire event online!
‹ Back to Blog